---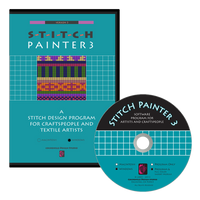 Stitch Painter 3 Gold software with the Full Color Import Module included.
Windows version
Download this file. Then unzip it and run the installers.
There is one installer for Stitch Painter and the FCI. A second installer is the driver for the USB Hasp key. Install this with the key 'out'. After the driver is installed, insert the key and the light should turn on, and your software will open.
Note: This is a digital download software version, but we still have to ship the USB security key, so shipping will apply.