---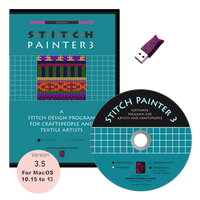 Stitch Painter 3.5 for Mac. including the Full Color Import Module
Works with Catalina, Big Sur, Monterey, and Ventura
Stitch Painter 3.5 Compatibility – Mac OSx 10.6 to 13
New users will need to purchase the regular package and the USB security key will be shipped. We can still do a Digital Download, but shipping needs to be added for the key. Please choose the right product.
This digital download item/version is for people who already have a USB key for Garment Designer. We can update your key remotely to run both software packages. 
Once we verify your Garment Designer ownership, we will be in contact with information on updating your key, and with a digital download for Stitch Painter and the Full Color Import Module.
This video shows features of Stitch Painter 3 all of which are in version 3.5 (which is an update designed for Catalina and above).
Stitch Painter is a grid-design program that allows you to design for a variety of textile arts that utilize grids. 
It's feature list is extensive, and includes a variety of drawing tools, motif/brush ability, history panel, Color, Symbols and Texture panels (you can build you own as well), Repeat Mode, etc.

The program includes training videos. USB key (security), DVD (or digital download by request).
The Full Color Import Module allows you to import colored graphic images, color reduce and grid them. Read more on our Full Color Import page or click on the link below.
Click on the following links to learn more about the Stitch Painter software:
OVERVIEW
FEATURES
FULL COLOR IMPORT