---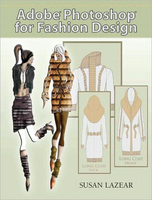 Please order this book on Amazon or through another book seller. Prices Vary.
This book is available as a paperback or Kindle.
Author Susan Lazear At last, a guide and reference book on how to use Adobe Photoshop for fashion design! If you want to learn how to use Adobe Photoshop to develop or advance your fashion drawing skills, communicate your ideas to employers, or simply have fun drawing clothing and textile designs. You will love this book and its approach to teaching in simple-to-follow steps. • Provides you with an easy and visual approach to the mechanics of using Adobe Photoshop in a manner that is simple to learn. • Walks you through a tour of Photoshop's tools and functions that pertain to fashion design. • Guides you step-by-step through a series of exercises and provides illustrations of works-in-progress as well as finished examples. • Teaches you the basics of creating fashion flats, illustrations, textile designs, and merchandise presentations. • Includes a variety of tips and suggestions for using Photoshop in fashion design.