---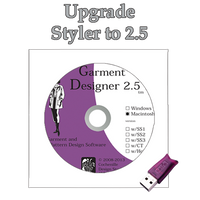 Garment Designer 2.5 Compatibility – Mac OSx 10.6 to 10.14.6. 
*Garment Designer 2.5 is not compatible with Mac OSx Catalina Please see our Mac Compatibility Support Page for more information.
Upgrade from version "Garment Styler" to Garment Designer 2.5,  for Macintosh. 
*To purchase this upgrade you must provide your registered program serial number in the notes section upon checkout or by email to info@cochenille.com.
Security
Garment Designer 2.5 uses a USB HASP key for software protection. This key will need to be plugged into your computer during software use. You may install the software on your desktop and your portable and move the key back and forth. 
Garment Designer 2.5 is a program designed for sewers and knitters. It allows you to enter custom measurements or use the extensive built-in libraries for Men, Women, and Children.

You can choose and mix-n-match from an extensive set of style components for body style, neckline, sleeve etc., and then, if you like, you can drag points around to edit your pattern for style or fit.

One can print a full-scale pattern for sewing or blocking, or input gauge and generate shaping instructions.

Program includes DVD, USB security key, extensive PDF manual and built-in help.
*If you do not have a disk drive for installation, please enter 'No Disk Drive' into the notes section upon checkout or contact us at info@cochenille.com for a downloadable version.You will still need to have the USB security key shipped in order to use the program.