---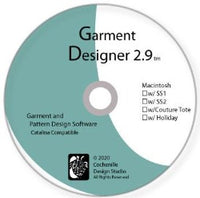 Upgrade from version 2.5 to 2.9, Garment Designer for Macintosh which is a 64-bit program that Mac OS Catalina, Big Sur, Monterey, and Ventura.

If you have a Garment Designer version prior to 2.5, please contact Cochenille Design Studio for info on how to upgrade.
info@cochenille.com
*To purchase this upgrade you must provide your registered program serial number in the notes section upon checkout or by email to info@cochenille.com.
We will verify your ownership and attempt to determine which Plug-Ins (e.g. Style Sets) you have so that we can simplify your upgrade installation.
As a general rule, the upgrade will be sent out digitally through a digital download link. You can download the new installer and run it to install version 2.9.
If you have saved slopers in a prior version, you will want to bring the Custom Sizes file over to this new version. If you don't have access to this, you can open any file with a custom size and then save the Sloper from there. (Files save a custom sloper with the file).